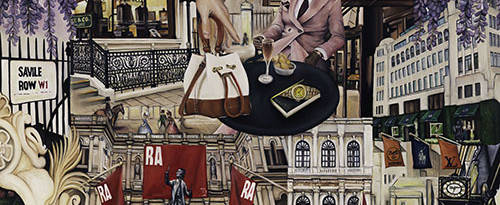 Burlington Arcade x Kit Lintin
Burlington Arcade, has partnered with emerging London artist and oil painter Kit Lintin to design and launch a range of bespoke prints for shoppers this autumn. Championing the famed Mayfair destination and its heritage - the popular designs will now be available as exclusive to purchase as limited edition prints.
Inspired by surrealism, Kit Lintin's work involves binding layers of contrasting narratives and vibrant imagery together to form dreamlike landscape paintings. Kit creates collages that merge reality with abstraction, which later inspire her paintings. She manipulates scale and perspective whilst drawing on contrasting subject matters to produce paintings that are unique and complex. 'The more you look the more that is revealed.'
Kit Lintin says, 'Burlington Arcade is an iconic London landmark that offers a platform for young artists to showcase and express their work. I am excited to be launching print editions of my large scale canvases for shoppers to capture a piece of the Arcade to take home with them. It's the perfect setting for my work - the Arcade's eclectic mix of new and heritage brands truly value art and craftsmanship.'
Burlington Arcade fuses luxury labels of old and new, combining heritage luxury with cool emerging brands who share a passion for craftsmanship.