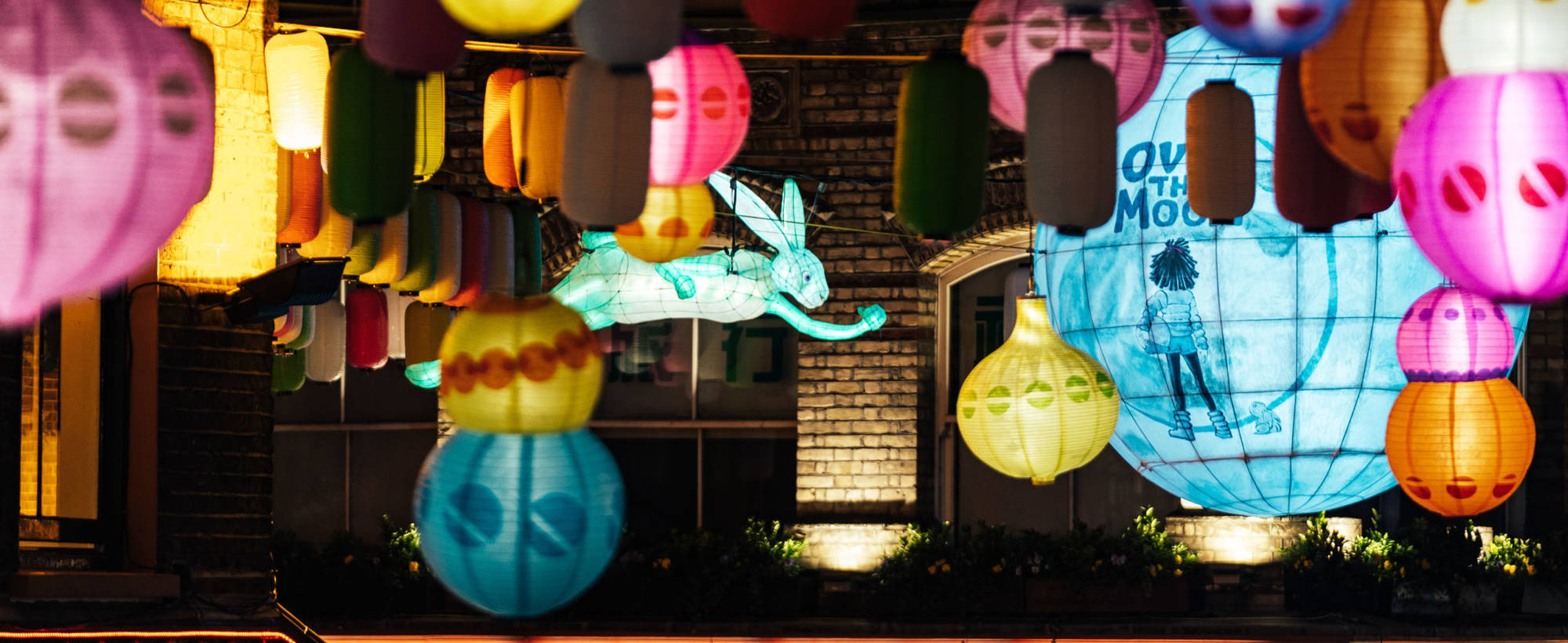 A magical light installation has taken over Chinatown London to celebrate the release of Netflix's new movie, Over the Moon.
Looking to see a stunning art installation?
For those who can safely walk into the heart of London, get ready to immerse yourself in the magic of movies. Chinatown's Gerrard Street has been transformed with an incredible light installation that celebrates the folklore of the Mid-Autumn Moon Festival, telling the story of the Moon Goddess through the eyes of determined young girl Fei Fei, from Netflix's 'Over The Moon'.
Running from 21st October – 15th November 2020, a magical lantern Installation marks the release of brand-new animated film OVER THE MOON, ahead of the film's global debut on Netflix on 23rd October 2020.
Across a 100 metre stretch including iconic Gerrard Street in London and brought to life with a thrilling animated illumination of over 12,000 LED lights, the spectacular lanterns tell the story of Netflix's OVER THE MOON with Fei Fei and her trusty partner Bungee the Rabbit travelling to the Moon to find Chang'e, the Moon Goddess whose legendary tale gave birth to the Mid-Autumn festival.
Characters portrayed in the Installation include the mythical Jade Rabbit, Lunarian guardians Foo Dogs, luminescent Moon Frogs, and a rocket ship inspired by that built by the film's lead character Fei Fei, along with her trusted companion Bungee. They culminate in a giant moon sphere bearing the images of Chang'e, Fei Fei and Bungee, along with a travelling rocket bike that can be viewed at ground level.
All lanterns were expertly made by Liverpool's Lantern Company, with over 30 people in 5 locations working on each of them in a safe socially distanced manner. A spokesperson from the Lantern Company also revealed that over 1,000 tea bags, 15 litres of hand sanitizer and 6lbs of chocolate were also crucial in bringing Netflix's "Over The Moon" vision to life.
Learn more about the display here.
The immersive light walkway has been created in a way to be enjoyed outdoors in a socially distanced manner and in accordance with current Governmental guidelines.