Art of London Unveils New Flags by Rana Begum on Piccadilly
We are thrilled to announce a brand new public art flag display on Piccadilly in collaboration with the Royal Academy of Arts and renowned artist Rana Begum. The vibrant designs entitled No.1273 Flag will adorn the London skies from 30th May to 20th August 2023.
Designed by Rana Begum, these flags are a nod to the beginning of the upcoming Art of London Summer Season, created in response to 'The Art of Entertainment' our theme for 2023.
Each flag showcases intricate geometric patterns, celebrating the multicultural fabric of the city. Rana Begum, a distinguished Royal Academician elected in December of 2019, has skilfully infused the flags with meticulously tiled mosaic patterns, symbolising unity and the diverse community of London. With her mastery of minimalist abstraction, she captures the vibrant essence of the city's world-class culture and entertainment scene, particularly in the iconic West End. Her artwork spills out onto the streets of the West End, bringing vivid colours and vibrancy along London's iconic Piccadilly.

As the Art of London's Summer Season approaches, these striking designs give us a glimpse of what's in store for the city's streets. Rana Begum's designs, responding to the "Art of Entertainment" theme, reflect the liveliness and excitement of dance, music, and theatre. Her clever blend of colour and geometry captures the fluidity of movement, resulting in a rhythm that connects with passers-by.
It's a privilege to work on this project and bring the colour and vibrancy of art out of galleries and into Piccadilly. The theme 'Art of Entertainment' suggests energy and dynamism, celebrating dance, music, and theatre. I wanted to use colour and geometry to capture this movement in my designs. As you move through the space, the composition and colours shift to create a successive rhythm of tone and form. There's a unifying melody that runs through the work, using repetition to suggest the possibility of the infinite.
Rana Begum RA
The streets of Piccadilly now boast a spectacular display of vibrant flags. These captivating pieces of public artwork invite you to embrace the dynamic art and culture in London's West End.
So come, wander through Piccadilly, and let the colours and patterns transport you to a world of creativity and joy.
Don't miss the latest episode of TalkArt featuring Rana Begum RA, sponsored by Art of London. It's available now on all streaming platforms!
In this episode, Rana Begum RA discusses her exciting collaboration with the RA and Art of London for Art of London's Summer Season. She talks about creating artwork based on the theme 'The Art of Entertainment,' and also dives into her career.
You May Also Like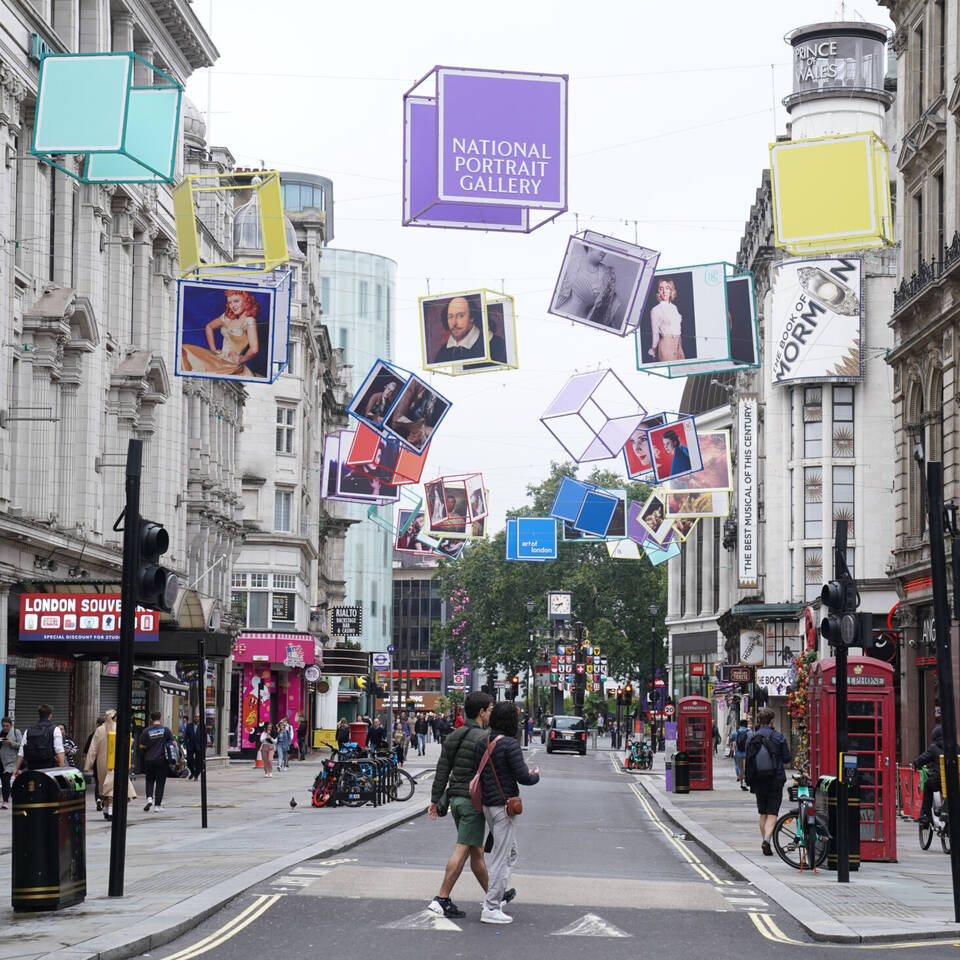 Art of London Season 2023: The Art of Entertainment
Art of London Season 2023: The Art of Entertainment
Introducing Art of London's new Summer Season 2023: The Art of Entertainment! We're excited to bring you a series of accessible public art across London's iconic West End.
Read more
about Art of London Season 2023: The Art of Entertainment