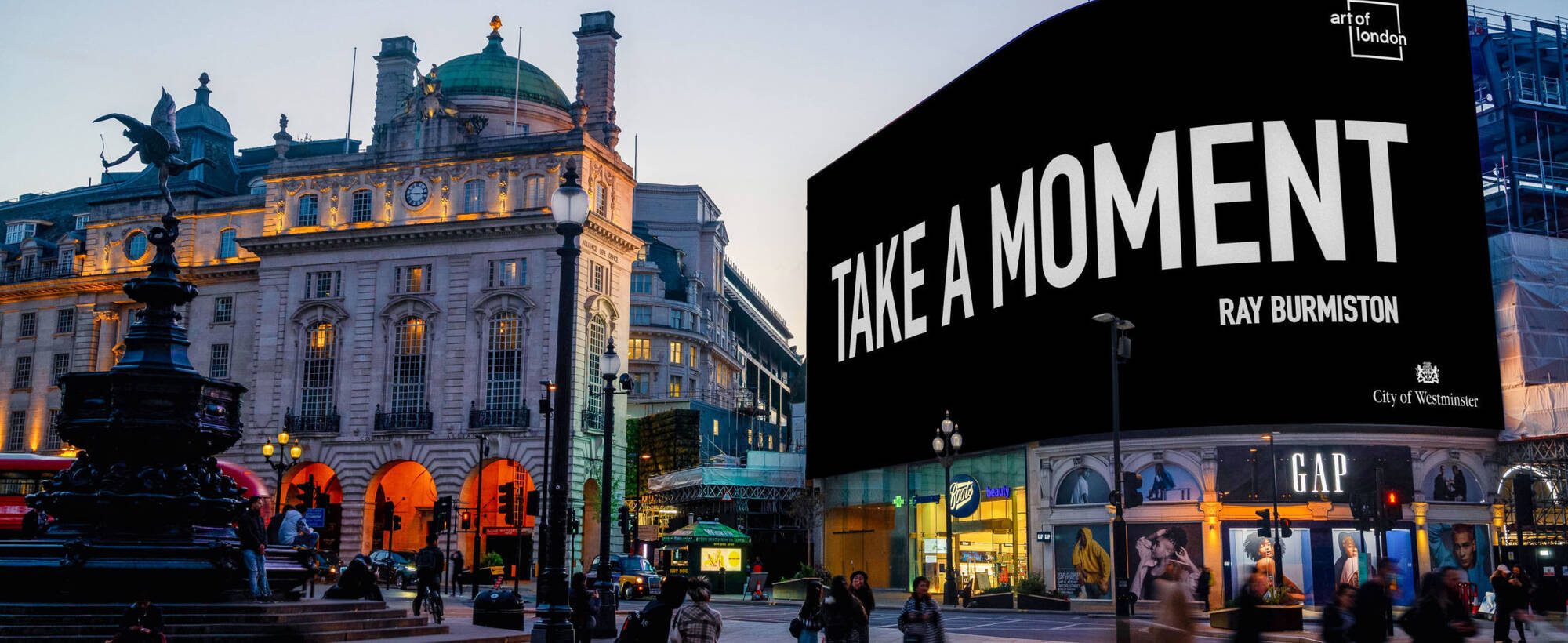 ART OF LONDON PRESENTS TAKE A MOMENT 2022
Art of London presents TAKE A MOMENT 2022 a photography exhibition from artist, Ray Burmiston took over the West End to raise awareness for mental health between 8 March - 6 April 2022.
The spectacular exhibition featured a huge number of famous faces photographed with their eyes closed, to remind people to take a moment to look after their mental health. Featuring portraits of A-list stars including David Walliams, Kylie Minogue, Stephen Fry, Alesha Dixon, Amanda Holden, Kate Moss, Richard Ayoade, Helena Bonham Carter, Ricky Gervais, Grayson Perry, Mel B, James Corden, Nish Kumar, and many others from the worlds of entertainment and sport, Art of London's exhibition appeared on Europe's largest advertising display, the Piccadilly Lights across the month-long period. Owner of the Piccadilly Lights, Landsec donated the screen time in support of the campaign.

Spectators had the opportunity to be part of the movement, and see their faces up on the Piccadilly Lights alongside iconic celebrated stars. From early March, the public could post an eyes closed selfie on Instagram, in a moment of reflection for the chance to appear on the Piccadilly Lights along with much-loved celebrities and 'famous faces' of the West End. As part of the finale screening members of the public could see their Take A Moment selfies screened alongside celebrated famous faces.

The digital exhibition shown intermittently on Europe's Largest screen, was paired with a physical event space directly underneath the Piccadilly Lights, supported by Westminster City Council, and aims to celebrate art in all its forms and transform the streets of London's creative West End. The Art of London Presents Take A Moment 2022 gallery showcased physical versions of the portraits displayed across the gallery walls, with a seating area to pause and observe the portraits. The exhibition space also housed a Take A Moment wall, set up as a space to allow the public to take a moment and pose for their very own Take A Moment selfie.

Ray Burmiston has captured hundreds of photographs of stars with their eyes closed over the last 10 years highlighting the importance of taking a moment for themselves to focus on their mental health. Art of London and Ray Burmiston presented people with a moment of reflection and intimacy rarely, if ever, seen in pictures of A-listers, communicating the positive benefits for our mental wellbeing of pausing for a moment. In addition to photographing the world's most recognisable celebrities, Ray Burmiston captured local legends and familiar faces working at iconic institutions in the West End, including The Wolseley, Burlington Arcade, Magic Mike Live at The Hippodrome and The Odeon Luxe in Leicester Square, who will all feature in the new exhibition.
Ray Burmiston's photographs, which encourage everyone to address their mental health, were showcased for a full month underneath one of London's most popular landmarks with free entry for the public. Businesses in the West End district, including the boutique-led shopping thoroughfare, Burlington Arcade featured photography from the exhibition and encourage members of the public to stop and 'Take A Moment'.
With experts citing an alarming rise in the use of mental health services, 'Art of London Presents Take A Moment 2022' encouraged the public to snap a selfie and share their own moment of reflection on Instagram in March. The exhibition culminated in early April with a ten-minute video featuring hundreds of celebrity and public portraits, curated by Ray Burmiston, who participated in the campaign to raise awareness of mental health. Though the campaign has now ended, you can still be part of the movement by visiting the Take A Moment to see how you can become part of the virtual exhibition that lives online.
Follow @theartofldn to see view the Take A Moment 2022 finale, or watch the film below in full on our YouTube channel.


Event Info
Date & Time
March 09 - April 06
Location
Piccadilly Lights, Piccadilly Circus, London, UK
If you, or anyone you know is struggling with their mental health, there are some exceptional resources around to help. We've put together a list of charities and organisations that specialise in mental health that you can reach out to for support.