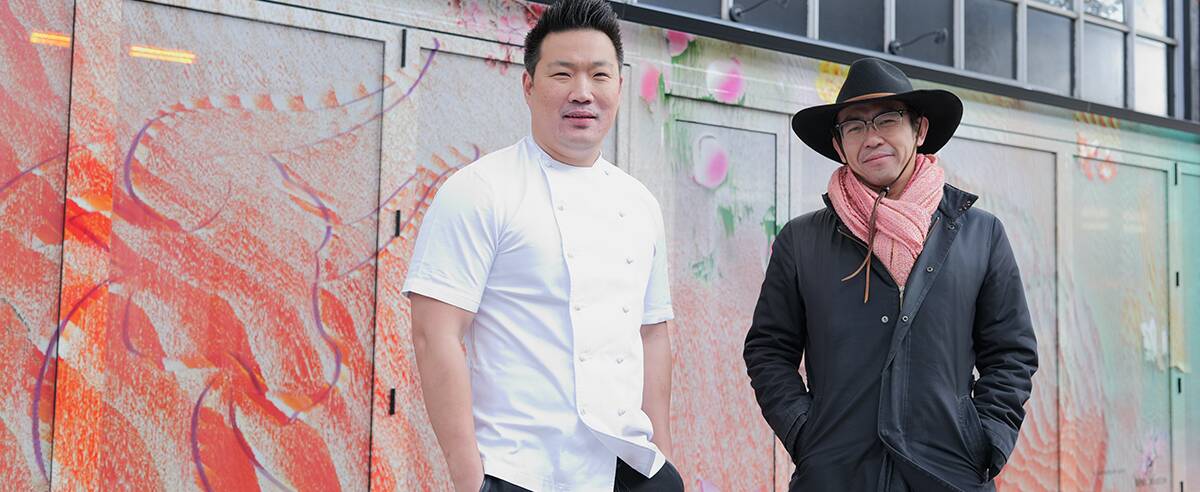 A.Wong x Gordon Cheung Studios launch Lunar New Year Art Installation
News
Launching the Lunar New Year with art.
Andrew Wong, Chef Patron of recently crowned, 2 Michelin starred restaurant A.Wong in Pimlico and London-based, multi-media artist, Gordon Cheung have joined forces to create a cutting edge, interactive, art installation to celebrate Lunar New Year 2021.
When it became apparent the lockdown would extend into the month of February, the two met in a creative collaboration to exchange their knowledge, thoughts and nostalgia about the Lunar New Year. Reviewing the symbolism of their shared history and culture, inspired the creation of "The Year of the Ox by Gordon Cheung".
In partnership with Rémy Martin, the public artwork will take the form of a vinyl mural wrapped around the restaurant's newly installed terrace, to be enjoyed by everyone. In addition, it can be enjoyed further through a "Year of the Ox" app on Android or Apple smartphone, accessed via a QR code located on the work. This will bring the art to life in digital animation: beautiful flowers will grow and the mural with the ox will glisten and transform.
Gordon explains, "It's been a tough time for many of us and Andrew and I wanted to offer a moment that could bring a smile to people. We both strive to express our passions and energy by channelling the stories within our souls from which beautiful food and art are created. Dim Sum means 'touch the heart' in Chinese and to me means gathering with family to create wonderful memories united around tasty meals. For this project, we both thought it was important to give back to the community with a positive message of joy, good luck and to wish for health and prosperity for the new year."
Andrew and Gordon are British born Chinese, who grew up navigating between Eastern and Western cultures. They have found uniquely different ways to express their creativity and share an artistic connection. Both have achieved high acclaim in their respective industries by translating their present-day craft through ancient cultural symbolism.
Andrew adds, "The celebrations here in London have extended over time to include the whole community, not just Chinese and for the second year in a row, we won't be able to come together at Lunar New Year as we normally do. As we're still in lockdown, Gordon and I wanted to give something back to London - something free of charge that was fun; to lift the spirits after so much sadness and just find a moment of happiness, humanity and beauty. The restaurant sadly will have to remain closed, but we can still use the outside as a medium to project a bit of optimism and hope for the New Year."
Rémy Martin has long been an advocate of craftsmanship, passion and excellence, qualities it shares with both artist and chef, and throughout China is synonymous with its New Year hopes of success and good fortune. Launching this unique artwork with Andrew and Gordon on 11th February 2021 at this key occasion in the Chinese calendar, the partnership will springboard a series of exciting offerings and wider convivial activities that will continue throughout the Year of the Ox, heralding a prosperous, bright and harmonious future for all.
Update Info
-
Published
11.02.2021 - 2 years ago
Category