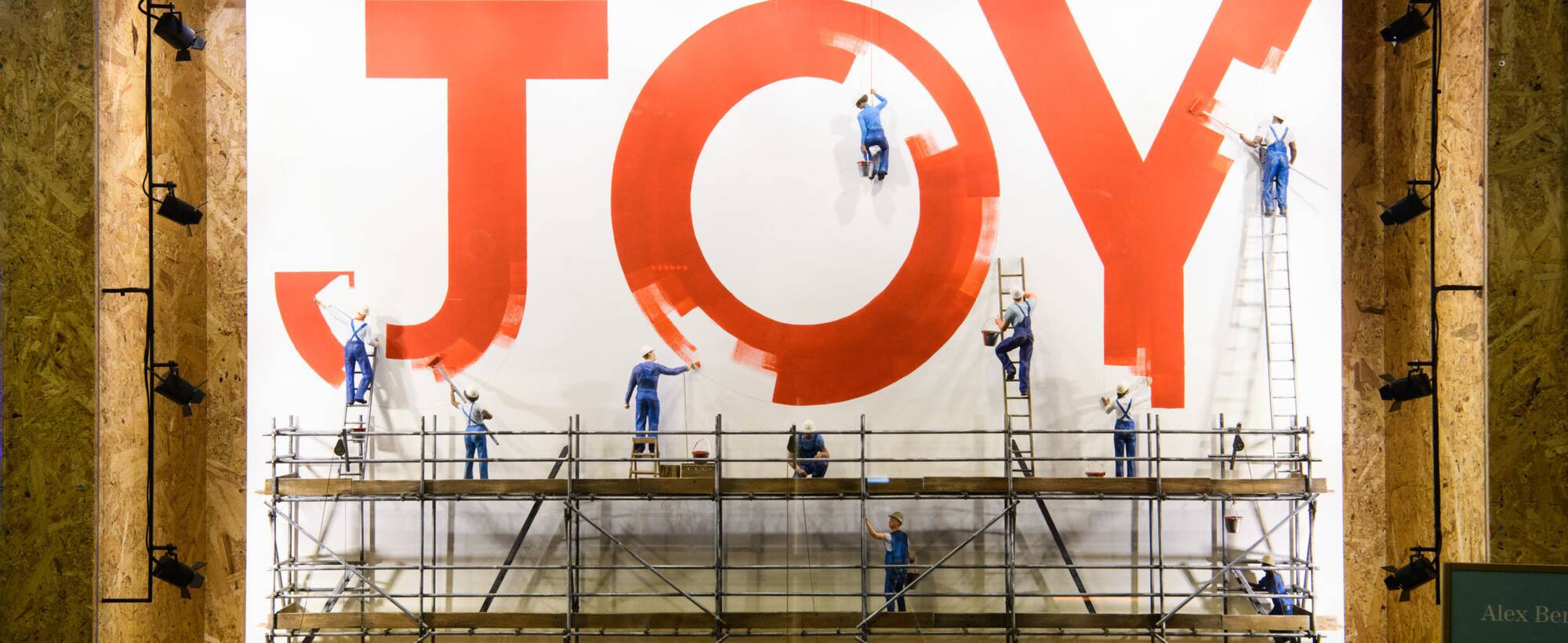 Make Joy at Fortnum & Mason
News
Don't miss the MAKE JOY window display on Piccadilly.
The arts illuminate our lives, enrich our souls and inspire us all – fostering creativity, debate and much-needed togetherness. In 2020, we missed them greatly.

With the brief to MAKE JOY in the flagship Piccadilly Fortnum & Mason windows, the team held an open call for theatre set designers to get involved.
Fortnums wanted to celebrate some of the incredible talent behind the scenes, and give creatives a platform to do what they do best – spreading the power of creativity. Here's to a year full of the arts, hope and joy.
Read on to learn more about each designer. Or, visit the online shop here.
April Dalton
Instagram: @apriledalton
Website: aprildalton.com
"My window seeks to combine the joy of seeing blossoming flowers with the joy of receiving a compliment. I thought about how much bad news we have had to absorb this year, and I wanted a way of counteracting this by delivering good news.

I was also struck by a movement of growing, growing bigger, expanding out, a sense of freedom and life. In a time that feels so unstable in terms of climate change and the World grinding to a halt because of the virus, I wanted to show nature prevailing and that the seasons carry on despite whatever problems we are facing. I would like to dedicate this window to my mum, who was known to many as a beacon of positivity in the face of adversity."
'The seasons carry on, whatever problems we are facing"
Jean Chan
Instagram: @JCMaker_
Website: jeanchan.org.uk
"There are many simple things in life that can bring me joy, like enjoying a nice warm bath or hugging a really big dog. I wanted to encapsulate these ideas in my design by using the Circus and Carnival as a theme.

This year has been such a hard knock to Stage designers such as myself and having this opportunity to use my creative mind in this way is an absolute pleasure."
"There are many simple things in life that bring me joy, like hugging a really big dog"
Alex Berry
Instagram: @alexberry
Website: alexberry.co.uk
"I love seeing the making of things. Those halfway moments when the ladders are out and the paint is still wet - they're beautiful. And these little people working together to paint their big message, it's a tribute to the power of community and to all the people who work behind the scenes to bring joy into our lives.

It's amazing to be a part of this project with Fortnum & Mason. It's been such a difficult time for everyone, and an especially devastating time for those working in the arts, so this is a wonderful way to bring some theatre to our streets. If we can crack a few smiles, I'll be happy."
"It's a tribute to the power of community"
Sam Wilde
Instagram: @samueljwilde
Website: samuelwilde.com
"I wanted to make something that was a celebration of overlooked everyday joys, of a clear night sky, the first balloon of the summer, a well buttered crumpet... playing with a cardboard box. To take these small moments and bring focus and drama to the little things that fill our world with light.

The theatre industry (and freelancers in particular) have really struggled in 2020, so having the opportunity to work on something like this, to show not only my skills but to be part of a showcase of the amazing skills available in our profession feels like a true honour and a real responsibility. I hope I/we make every something every assistant, associate, emerging and established designer can be proud of."
"I wanted to celebrate everyday joys, like a well-buttered crumpet"
Tahra Zafar
Instagram: @TahraZafarLtd
Website: tahrazafar.com
"Appreciating and noting the small gentle parts of life felt the right way to show Joy for this project. Since the start of the worldwide pandemic many of us have spent more time with our immediate families in the smaller spaces of home.

Without the distractions of our former busy lives the details of everyday life have become more significant, important, cherished and joyful. My window captures the moment when a parent or carer puts a child to bed in a cosy room and gives comfort with love and best wishes for a night's sleep."
"Comfort with love and best wishes for a good night's sleep "
Jon Bausor
Instagram: @crookslikeus
Website: jonbausor.com
"My windows are inspired by the kaleidoscopes I've been fascinated with since I was young and are adapted from my stage design for the play 'You For Me For You' at the Royal Court Theatre in 2015. Describing something as kaleidoscopic, means that it consists of a many different parts, such as different colours, patterns, or shapes much like the diverse make up of the city and country we live in. The word derives from three words of Ancient Greek, καλός (kalos) meaning beauty, εἶδος (eidos)- that which is seen and σκοπέω (skopeō) to look at. In this case the beauty is YOU, the viewer. JOY mirrored in reverse as it were..."
"Kaleidoscopic means it consists of different parts, like the diverse city and country we live in"
Update Info
-
Published
18.01.2021 - a year ago
Category