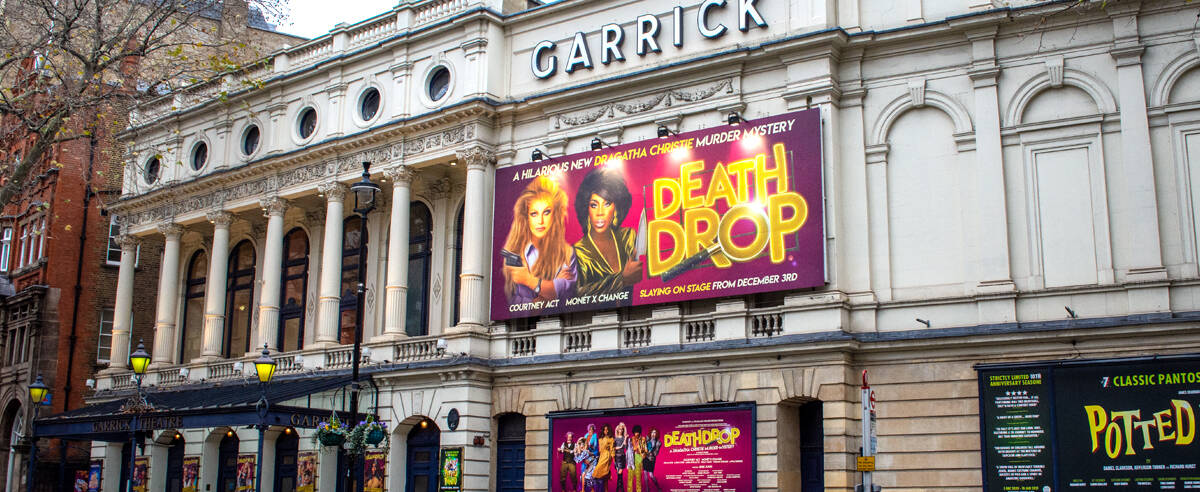 Garrick Theatre, 2 Charing Cross Road, London WC2H 0HH
T: +44 (0)330 333 4811
Access email address: access@nimaxtheatres.com
The Garrick Theatre opened on 24th April 1889 with The Profligate, a play by Arthur Wing Pinero. In its early years, it specialised in the performance of melodrama, and today the theatre is a receiving house for a variety of productions. The theatre is named after David Garrick, considered as one of the most influential Shakespearean actors.
The Garrick Theatre was designed by Walter Emden, with C. J. Phipps brought in as a consultant to help with the planning on the difficult site, which included an underground river. Originally The Garrick had 800 seats on 4 levels, but the gallery (top) level has since been closed and the seating capacity reduced to 656.
Wheelchair user access is located in the Dress Circle, which is at street level. Please report to the main entrance on arrival and a member of staff will accompany you. There are two small steps into the building; a portable ramp will be put out to assist wheelchair users. The wheelchair space is located in the centre of Row E of the Dress Circle. Adjacent seats are available for disabled patrons' companions.
TRAVEL
Nearest tube stations: Piccadilly Circus, Leicester Square
Nearest train station: London Charing Cross station
Bus: 3, 6, 9, 12, 13, 15, 24, 29, 30
PARKING
If you're driving into the West End to see a show, take advantage of the Q-Park Theatreland Parking Scheme saving you 50% off car parking after 12pm and for up to 4 hours. To qualify, present your Q-Park car park ticket for validation at our box office. Please note the discount does not apply to the pre-booking service, for full terms and conditions, participating car parks and locations visit Q-Park.