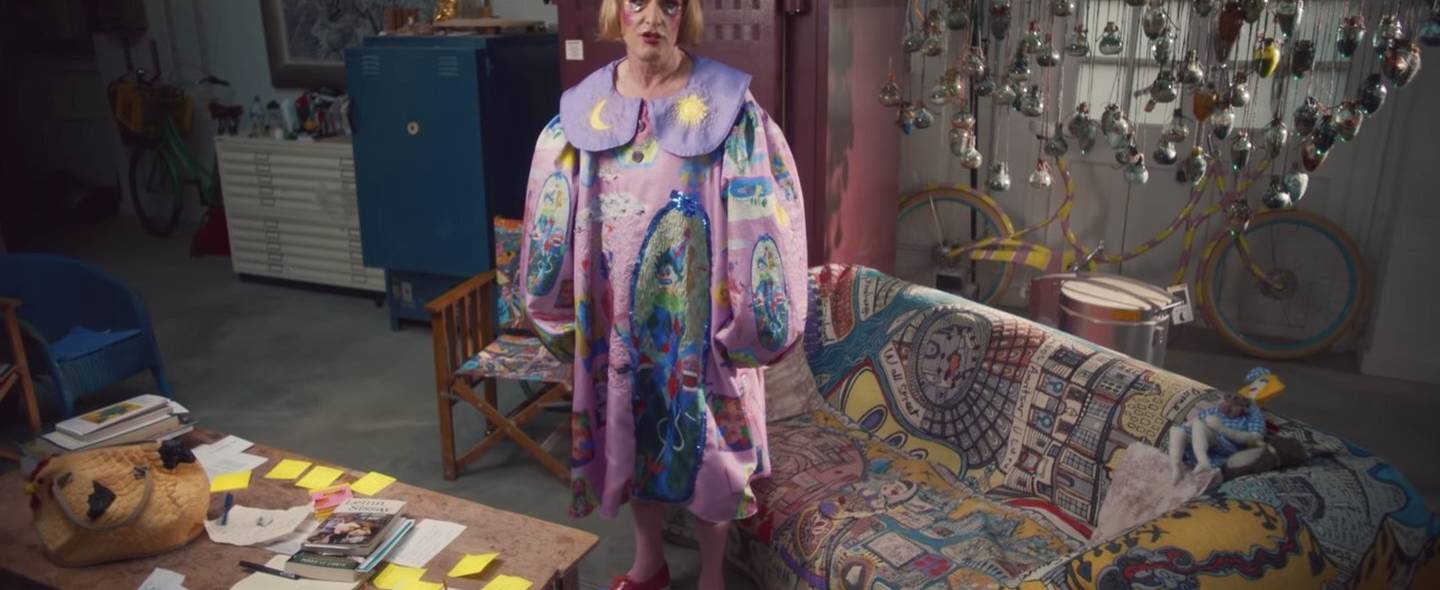 13 artist TV shows, movies and documentaries to watch on YouTube, Netflix, Amazon Prime and more
Things to watch for art addicts in lockdown
Back to Itineries
When you can't go to the art, let the art come to you. Here's our pick of the best artist biopics and documentaries available to stream throughout 2021.
Pining to immerse yourself in art?
While the doors of London's biggest art galleries and institutions remain closed, let art into your home with these top picks of artists biopics and documentaries.
From Grayson Perry's art club on Channel 4, Sky Arts Portrait Artist of the Year 2020, or Salma Hayek's provocative protrayal of Frida Kahlo, there's plenty of ways to drench yourself in art from the comfort of your home.
1. Grayson's Art Club
Available to watch on Channel 4 via the All 4 streaming service.
Grayson Perry, a Royal Academician of the Royal Academy of Arts, brought art addicts a hotly anticipated new TV show to Channel 4 during the first UK nationwide lockdown.
Filled with arty tips to spark creativity in the British public at home, Perry is joined by other artists while in lockdown. At the end, Perry will puts on an exhibition of the work created by the audience, as a visual representation of Britain's time spent in isolation.
Find out more online here. Or, watch a clip below.
2. Sky Arts Portrait Artist of the Year 2020
Hosted by Stephen Mangan and Joan Bakewell, Portrait Artist of the Year is available to view of catch-up via Sky Arts. Shot at Battersea Arts Centre, nine portrait artists are competing for the title, with fun new challenges to face weekly.
Find out more online here. Or, watch the trailer below.
3. Francis Bacon: A Brush with Violence (2017)
Dir. by Richard Curson Smith, available to view on BBC Four.
Francis Bacon was the loudest, rudest, drunkest, most sought-after British artist of the 20th century. Twenty-five years after his death, his canvases regularly exceed £40 million at auction. Bacon's appeal is rooted in his notoriety - a candid image he presented of himself as Roaring Boy, Lord of Misrule and Conveyor of Artistic Violence. This was true enough, but only part of the truth. He carefully cultivated the facade, protecting the complex and haunted man behind the myth.
In this unique, compelling film, those who knew him speak freely, some for the first time, to reveal the many mysteries of Francis Bacon.
Find out more online here. Or, watch below.
4. Mr Turner (2014)
Dir. by Mike Leigh, available to rent on Prime Video.
Timothy Spall plays an aged, misanthropic William Turner (otherwise known as JMW Turner RA) whose main form of communication in the film is an expressive grunt.
It is a brilliantly ambivalent portrait of the 19th-century English landscape painter, whose technical innovations, though increasingly mocked by the public, are depicted as an obvious progression in his fascination with light ("The Sun is God!" were supposedly Turner's last words).
The artist also offers a springboard for director Mike Leigh's minutely detailed and impish depiction of early Victorian society; the snooty, insular hanging committee of the Royal Academy's Summer Exhibition is reason enough to watch this biopic.
Find out who's who in the film Mr Turner. Catch the trailer below.
5. Maudie (2016)
Dir. by Aisling Walsh, available to rent on Prime Video.
In Aisling Walsh's biopic, the story of painter Maud Lewis becomes a story of irrepressible creativity. No matter the abject conditions faced by the Canadian folk artist – juvenile arthritis, poverty, the loss of her child to adoption – she finds solace in painting. We see her birds, flowers and landscapes in bright, unmixed colours and painted from memory fan out over every surface of the tiny Nova Scotian house that she shared with her fish-peddler husband until her death in 1970.
Find out more online here. Or, watch the trailer below.
Plus, if you like this, you might also like…
Other moving explorations of independent female creatives include the French-Belgian film Séraphine (2008), about French self-taught artist Séraphine Louis. Working as a housekeeper in the early 20th century, Louis achieved public recognition for her detailed, religious paintings of nature, but suffered from psychosis and died alone in an asylum.
6. Boom for Real: The Late Teenage Years of Jean-Michel Basquiat (2018)
Dir. by Sara Driver, free on Prime Video.
"The most vivid representation of an era": this quotation, by a friend of Basquiat's describing his art, could easily refer to Sara Driver's documentary about the artist, Boom for Real. Ghostly footage of a teenage Jean-Michel (he was only 15 when he began to mingle with New York's artistic underground) blends with shots of the Lower East Side in the 1970s, complete with abandoned apartment blocks, nightclubs and makeshift exhibition spaces.
Through interviews with his friends and collaborators, such as Al Diaz, the other half of graffiti duo "SAMO©", Basquiat emerges as both a discerning young artist and an ambitious networker. The documentary shows that his compulsion to create broached many art forms: poetry, music, design, as well as painting or writing on every available surface. His fame seems almost inevitable.
Find out more here. Or, watch the trailer below.
7. Sky Ladder: The Art of Cai Guo-qiang (2016)
Dir. by Kevin Macdonald, available on Netflix.
Cai Guo-qiang's towering Sky Ladder was twenty years in the making, and this documentary directed by Kevin Macdonald and produced by Wendi Murdoch is riveting.
Cai became an international star with his lavish pyrotechnic display for the 2008 Beijing Olympics opening ceremony, but he has a complex relationship with the Chinese state. His father, a gifted painter and calligrapher, was oppressed during the Cultural Revolution, and Cai's own career can be seen as driven by a need to re-establish family honour.
Watch online here. Or, view the trailer below.
8. Loving Vincent (2017)
Dir. by Hugh Welchman and Dorota Kobiela, available to rent on BFI Player and Prime Video.
A painted figure stares uneasily into the middle distance, his head leaning on one hand. Energetic brushstrokes curl around the black outline of his body. Suddenly the figure moves and the image is just a single frame in a discussion between two men. The Dutch artist Vincent van Gogh painted two versions of Portrait of Dr. Gachet, his doctor in Auvers-sur-oise. For this shot in Loving Vincent, the world's first oil-painted feature film, one of the project's 125 artists would have painted dozens. The result is mesmerising as each familiar painting is animated in the most literal sense: it is brought to life.
Watch on Netflix here. Or, view the trailer below.
Plus, if this depiction of Van Gogh's last few days isn't enough, then there's a whole range of Van Gogh biopics, from Kirk Douglas's 1956 portrayal Lust for Life, which is available to rent on Amazon Prime Video, to a 2018 version starring Willem Dafoe At Eternity's Gate on Netflix.
9. Peggy Guggenheim: Art Addict (2015)
Dir. by Lisa Immordino Vreeland, available to rent on Prime Video.
Peggy Guggenheim's eventful life is a roll call of some of the most famous artists of the 20th century, reflecting her status as a patron of the arts extraordinaire.
Using audio interviews with the woman herself, as well interviews with art critics and historians, this documentary does justice to a colourful character who was not only ahead of her time but helped to define it.
While fighting through personal tragedy, she maintained her vision to build one of the most important collections of modern art, now enshrined in her Venetian palazzo.
Watch online here. Or, view the trailer below.
10. Frida (2002)
Dir. by Julie Taymor, available to rent on Prime Video.

Frida Kahlo sits on a yellow chair wearing an oversized suit. She is staring at the viewer, surrounded by the thick black locks of her recently shorn hair. The Mexican artist painted Self-Portrait with Cropped Hair in 1940, a month after her divorce from the famous mural-painter and communist Diego Rivera, closing a chapter in their tumultuous relationship, which is the focus of this biopic. Kahlo's hallucinatory paintings are the visual touchstone for the film as they end pivotal scenes and inspire its use of nightmarish Day of the Dead puppetry. Furthermore, Salma Hayek's cheeky, provocative and highly believable portrayal of Kahlo is essential viewing.
Watch online here. Or, view the trailer below.
11. L. S. Lowry – The Industrial Artist (1973)
Dir. by Philip Thompson, free on BFI Player.
A brass band provides the soundtrack for this short but compelling documentary about the artist L. S. Lowry RA: setting a slow and sombre tone for his Northern industrial landscapes, with a jauntier melody accompanying his groups of "matchstick" children and crowds on match days (the artist was a lifelong Manchester City fan). Made only three years before his death, footage of Lowry in his studio painting and talking about his work reminds audiences that his "naive" style was solidly based on classical training.
The documentary is one of many free films available from the BFI archives. Other gems include interviews with Barbara Hepworth and a young Anish Kapoor RA, who explains his sculptures for an Arts Council film Just what is it…? (1984).
12. Finding Vivian Maier (2014)
Dir. by John Maloof, available to rent on Curzon Home Cinema or Amazon Prime Video.
After buying a box of Vivian Maier's negatives at a Chicago auction in 2007, local historian John Maloof discovered further boxes and storage units containing over 100,000 negatives. He quickly became intent on finding out the story of their prolific author.
The resulting documentary follows Maloof as he attempts to solve the mystery, with a hotchpotch of material informing his investigation, including interviews with Maier's many employers and charges from her career as a nanny.
Yet in spite of these various voices, her street photography, much of it taken in Chicago and New York in the 1950s and '60s, speaks for itself. Part-journalism, part-portraiture, Maier's work exhibits a humorous and respectful regard for humanity, as well as fame-worthy sensitivity towards light and composition.
Watch on Prime here. Or, view the trailer below.
13. Andrei Rublev (1969)
Dir. by Andrei Tarkovsky, available to rent on Amazon Prime Video.
Repeatedly ranked as one of the greatest films of all time, this Soviet-era Tarkovsky biopic is based on the life of Andrei Rublev, a real 15th-century Russian icon painter. Over eight episodes, the film follows Rublev and his cohort as he moves around medieval Russia seeking work in cathedrals and monasteries. The painter and the filmmaker's worlds form a fascinating parallel as both highlight the challenges of creating art under a repressive regime (the film itself was not commercially released for years in the USSR).
At three hours long, this masterpiece of 20th-century cinema is best enjoyed with popcorn over a long afternoon indoors.
Watch on Prime here. Or, watch the trailer below.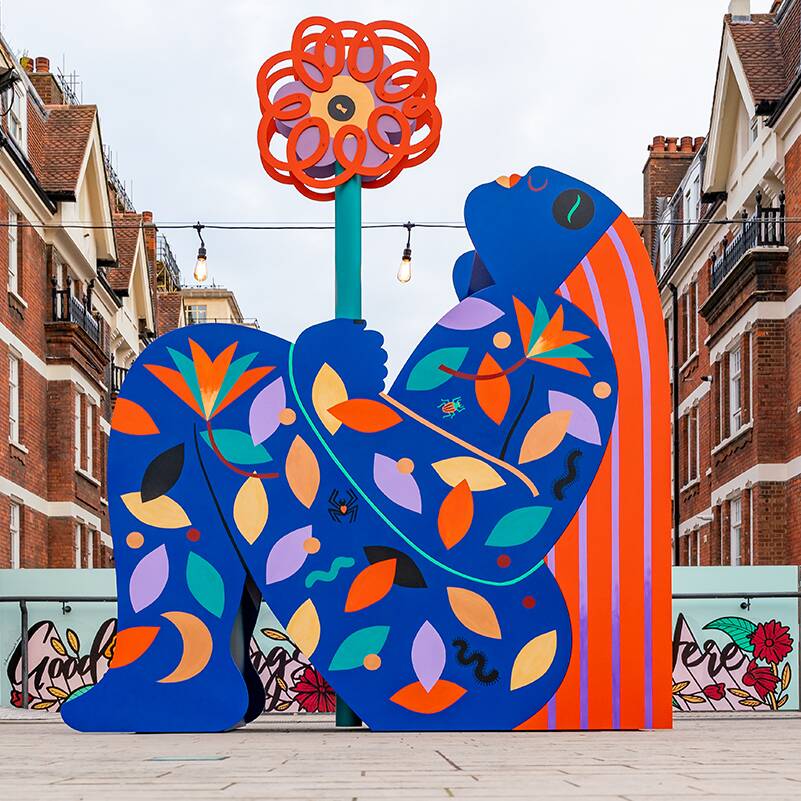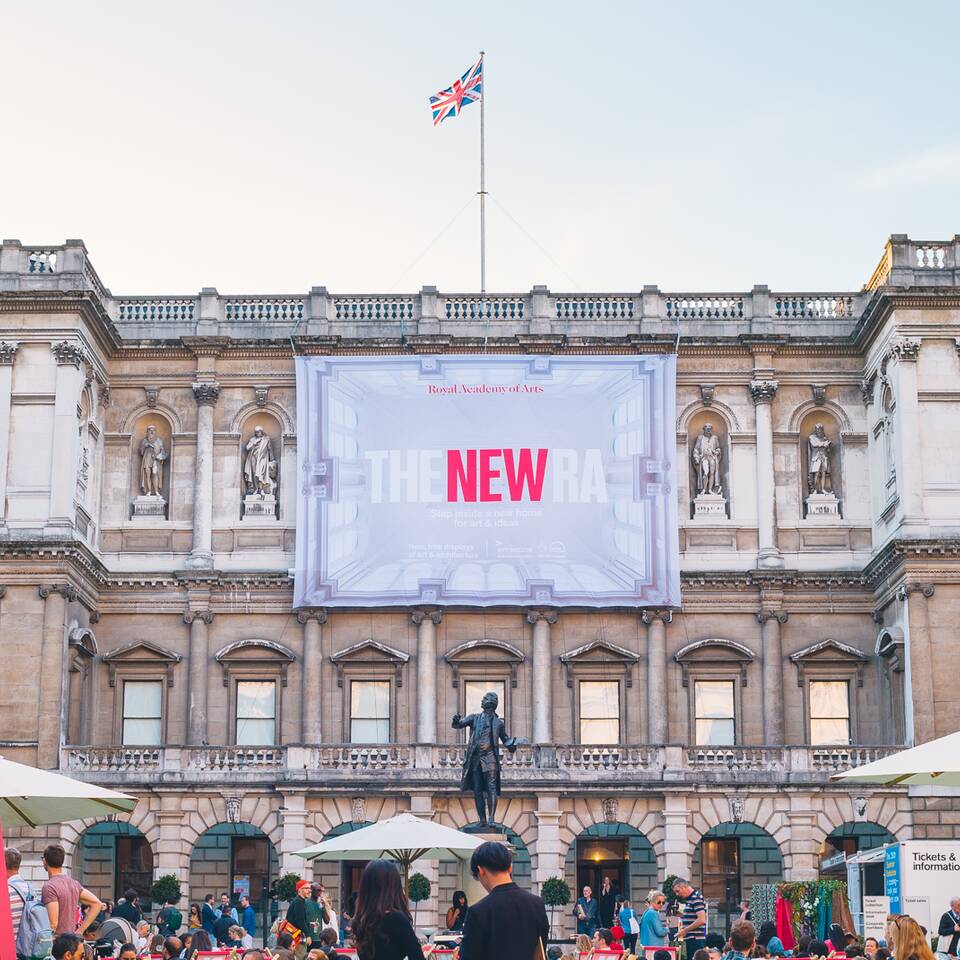 Royal Academy of Arts
Gallery
The Royal Academy of Arts is a world-renowned art institution based in Burlington House on Piccadilly, London. For over 250 years, the RA has existed to champion art and artists and offers a place where art is made, exhibited and debated. Enjoy their expanded campus with free displays, new spots to eat, drink and shop, and much more.
Read more
about Royal Academy of Arts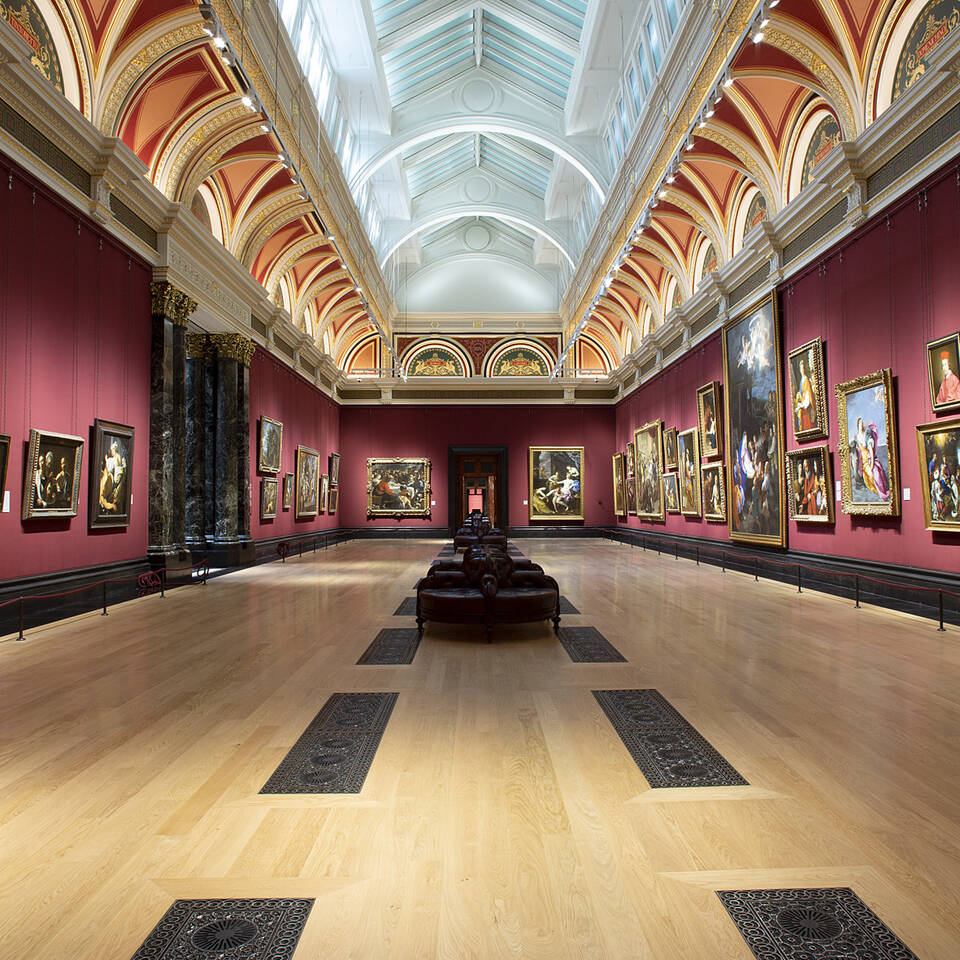 The National Gallery is one of London's greatest art museums located in Trafalgar Square, London. Founded in 1824, it houses a collection of over 2,300 paintings dating from the mid-13th century to 1900.
Read more
about National Gallery