Great Women Creatives
Celebrating art in all its forms inspired by some of the finest female talent
Back to Itineries
Uncover a treasure-trove of historic and contemporary female figures with our tour of must-haves to explore once London's lockdown restrictions are lifted.
Itinerary Info
Good for
Contemporary art, historic facts, great women creatives, fashion, food, culture, London's best restaurants and hotels, things to do in London after lockdown
Getting around
Featured businesses will remain closed until lockdown restrictions ease. But we will update this section once travel can safely resume.
This year, London's art scene is showing off some of the finest female artistic talent.
From Artemisia Gentileschi, Tracey Emin and Cauleen Smith displaying at some of the West End's biggest institutions, there is undeniably a universal theme to explore once London's lockdown restrictions are lifted once again.
Plus, the celebration of great women creatives isn't limited to being behind art gallery walls. The West End is brimming with activities inspired by great female figures.
From the likes of the award-winning Peter Rabbit™ Afternoon Tea at The Dilly hotel, inspired by, you guessed it, Beatrix Potter's Peter Rabbit tales, Rosa's Afternoon Tea selection at The Cavendish Hotel, inspired by Rosa Lewis a renowned 20th Century female figure, and the incredible contemporary interior designs by Kit Kemp at the Ham Yard Hotel, one of London's most luxurious hotels from the Firmdale hotel group, there's plenty of ways to celebrate some of the world's greatest women.
So, whether you're looking to learn more about this topic as you get set to spend more time at home, or want to plan the perfect pick-me-up inspired by women when London can safely reopen its doors to visitors again, here's our quick guide to great women running London's West End.
Cauleen Smith: CIRCA on the Piccadilly Lights
Launched in October 2020 with a new commission by Ai Weiwei, CIRCA.ART is a public art initiative transforming the way we interact with art during times of unprecedented turmoil.
Watch online or safely walk into Piccadilly Circus to see one of America's leading artists, Cauleen Smith, display works on Europe's largest digital screen, the Piccadilly Lights. Smith is the second artist CIRCA has commissioned to display works on the huge advertising screen and every evening throughout November at precisely 20:20 GMT, Smith will present her COVID MANIFESTO.
Consisting of 23 pronouncements and curated in collaboration with The Showroom, London, directed by Elvira Dyangani Ose, Cauleen Smith's work will be rewriting and revealing each point of the Manifesto in two-minute clips every night. In a sort of 'living' still life , the artist's desk will be the tableau, in which personal items, remnants of daily rituals, and key references to her practice will accumulate, appear and disappear. The project will unfold in a sequence, a crescendo, that will be punctuated by 7 intermissions selected from Smith's existing works.
Over the month, the personal and poetic, the eventful and now historical, will feature as Smith responds to Covid-19 and its multiple aftermaths.
Perhaps you're looking to take home a memento to mark this historic artistic moment?
Purchase exclusive limited-edition works made by Cauleen Smith for £100. Funds raised go directly to a range of charities supporting the UK cultural sector during the Covid-19 pandemic. Available exclusively from 1st – 30th November 2020, stocks are limited so get yours whilst you can.
Tracey Emin/Edvard Munch: The Loneliness of the Soul
Born a century apart, but united by art, this must-see exhibition delves into both artists fascination with women, their emotions and ageing.
Originally due to open at the Royal Academy of Arts on 15th November 2020 and running until 28th February 2021, this landmark exhibition at the Royal Academy of Arts will be bringing together, for the first time, the work of acclaimed British artist Tracey Emin RA (b.1963) and the Norwegian Expressionist Edvard Munch (1863-1944).
Explore 19 oil paintings and watercolours by the incredible expressionist painter, Edvard Munch, hanging out alongside 25 works by Emin, including her signature neons and sculptures, many of which will be on display for the first time.
Long fascinated and inspired by Edvard Munch's work, Tracey Emin has carefully chosen a selection of his masterpieces to accompany her own works, drawn from the rich collection and archives of MUNCH in Oslo, Norway.
Focusing on three main themes, grief, loss and longing, Emin has selected a group of Munch's works which explore his complex relationship with women of his time. Offering insight into early tragic events, including the death of his mother when he was only five years old, followed years later by his beloved sister, and a series of doomed love affairs, all contributing to this uneasy connection.
In Emin's formative years, she was drawn to the expressionism of paintings by both Edvard Munch and Egon Schiele. Their concerns in exploring the complex human condition and tortured psyche echoing many of Emin's own burgeoning tendencies.
Highlighting both artists fascination with the depiction of women, their emotional states and the process of ageing, this is a must-see exhibition once London's lockdown restrictions are eased again.
Learn more about the exhibition here and keep an eye on our site for updated exhibition running times.
Or, if you can't wait to see this exhbition, book your tickets online here, or call +44 (0)20 7300 8090.
Artemisia at the National Gallery
Follow in Artemisia's footsteps across Europe with this must-see monographic exhibition telling the tale of a famed female artist, who endured horrors inspiring her greatest works.
Originally running from 3rd October 2020 – 24th January 2021, keep an eye on our site if you're looking to book tickets when the gallery is able to reopen its doors to visitors as we'll be the first to provide you with up-to-date exhibition details.
Artemisia (1593 - 1654 or later) was an exceptional female artist from a time when women were not easily accepted, but challenged conventions and became one of the greatest storytellers of her time. She specialised in painting strong mythic or biblical women; transforming meek maidservants into courageous conspirators, and victims into survivors.
Although greatly admired during her life, her rape as a young woman and torture she endured during the trial that followed, overshadowed her artistic achievements. Today, she is recognised as one of the most gifted painters of the Italian Baroque period. Her art and life continue to inspire novels, films, documentaries, musical and theatrical productions.
In this first major monographic exhibition of Artemisia's work, when lockdown restrictions ease once again, get ready to see her best-known paintings including two versions of her iconic and viscerally violent 'Judith beheading Holofernes', her self portraits, heroines from history and the Bible, and recently discovered personal letters, seen in the UK for the first time.
Learn more about the exhibition here. Or, call or email to book your tickets for when the gallery can safely reopen using the following details:
T: +44 (0)20 7747 2885
Peter Rabbit Afternoon Tea at The Dilly
Looking for the perfect accompaniment to your journey of great women creatives?
The award-winning Peter Rabbit™ Afternoon Tea is a must-have once The Dilly can safely reopen its doors again to visitors.
Offering a magical wonderland of Peter's favourite treats inspired by the classic Beatrix Potter tales, fill-up on tasty treats such as the Caught In A Twist sandwich and the Every Bunny's Favourite carrot cake, perfect for little ones and adults alike.
From Mr McGregor's Garden, a delectable baguettini filled with fresh vegetables and hummus, to the Flower-Pot Hideout, an edible chocolate pot filled with chamomile mousse and blackberries, harking back to Peter's adventurous day. Not forgetting warm fluffy scones, served with jam and clotted cream in adorable plant pots.
Served in the Victorian glass atrium with floor to ceiling windows and balcony overlooking Piccadilly, only moments away from Piccadilly Circus, and decked out with an array of foliage, the setting perfectly matches Peter's tale.
Learn more about this incredible afternoon tea treat and enquire about a reservation online here. Or, call or email using the following details:
T: +44 (0)20 7734 8000
Kit Kemp designs at the Ham Yard Hotel, Piccadilly Circus
The Ham Yard Hotel is a must-visit for those with an inkling for art and fashion. Set on a three-quarter acre site tucked behind the Piccadilly Lights, its only moments' walk-away from the Royal Academy of Arts.
Offering exceptional interiors designed by Co-owner and Creative Director, Kit Kemp, in her award-winning luxurious British style for which her mix of colour, pattern, texture and art is world renowned, every room at the hotel is like a painted canvas telling a exciting tale.
The sumptuous drawing room offers the perfect place to refuel with an afternoon tea.
Kemp has magically mixed British artists, including Joe Tilson RA and Eileen Cooper RA, with inspirational folk art from all over the world. Not forgetting the French stone fireplaces, contrasting with pottery by Robina Jack who's work Kemp has described "is like alchemy" mixing colours and patterns in a remarkable way.
It's the way Kit Kemp mixes things together that makes her interiors sing. Throughout the Ham Yard, she has used many of her own designs, including fabrics such as Willow, Bookends, Rick Rack, Royal Snail and Ozone, created in collaboration with Christopher Farr; Suzani and Moondog, designed with Chelsea Textiles; and her own range of wallpapers including Racine, inspired by French 50s botanical posters.
To top it off, the courtyard terrace centrepiece is a specially commissioned large scale bronze sculpture by Sir Tony Cragg. Often cited as the ultimate spot in London for alfresco dining, the tree lined heated courtyard at Ham Yard Restaurant is perfect for a long lunch or evening cocktail.
So, for those with a penchant for art and design, the Ham Yard Hotel is a must-visit once lockdown restrictions are eased again.
Learn more about Kit Kemp's designs and enquire about a reservation online here. Or, call or email using the following details:
T: +44 (0)20 3642 1007
The Petrichor Restaurant, The Cavendish Hotel, Jermyn Street
Looking to continue your journey of inspiring female figures of London's West End?
Rosa's afternoon tea experience at the Petrichor restaurant inside The Cavendish hotel, is a must-have once lockdown restrictions are lifted.
Situated a short stroll-away from the Royal Academy of Arts and overlooking London's iconic Jermyn Street, the afternoon tea experience is inspired by Rosa Lewis a remarkable English cook who owned The Cavendish Hotel in the early 20th Century. It was under Rosa's ownership that The Cavendish Hotel became one of the most fashionable addresses in London.
Rosa wasn't born into London's high society but certainly became a leading female figure with her skills for cooking and entertaining. She worked her way up through the hierarchy of domestic service eventually running the kitchens of the Duc d'Orleans at Sandhurst.
It was through her cooking that Rosa was linked to Edward VII. He so adored her food that tactful society hostesses employed her when entertaining him for over 20 years, making her services the height of fashion. If you're looking to learn more about this connection as we're all set to spend more time at home, rediscover the popular 1970s BBC TV series 'The Duchess of Duke Street', offering a insightful portrait of what Rosa's life was like.
Then, once the grand doors of The Cavendish Hotel can safely reopen once again, get ready to fill-up on fluffy sandwiches, sweet or savoury scones, cakes and pastries, all paired with an extensive selection of artisan tea, starting from just £45 per person. Or, top-up for £15 more to add a glass of NV Brut Baron De Marck Gobillard Champagne.
Enquire about a reservation online here. Or call or email using the following details:
T: +44 (0)20 7930 2111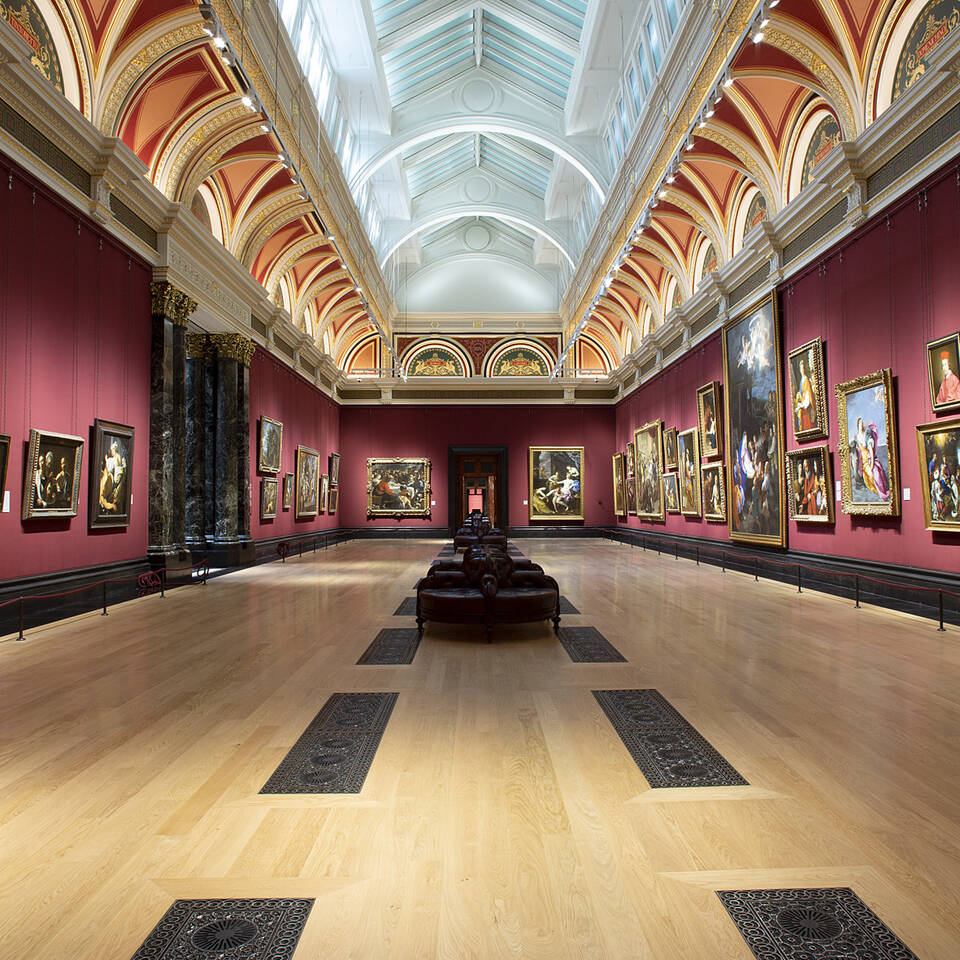 The National Gallery is one of London's greatest art museums located in Trafalgar Square, London. Founded in 1824, it houses a collection of over 2,300 paintings dating from the mid-13th century to 1900.
Read more
about National Gallery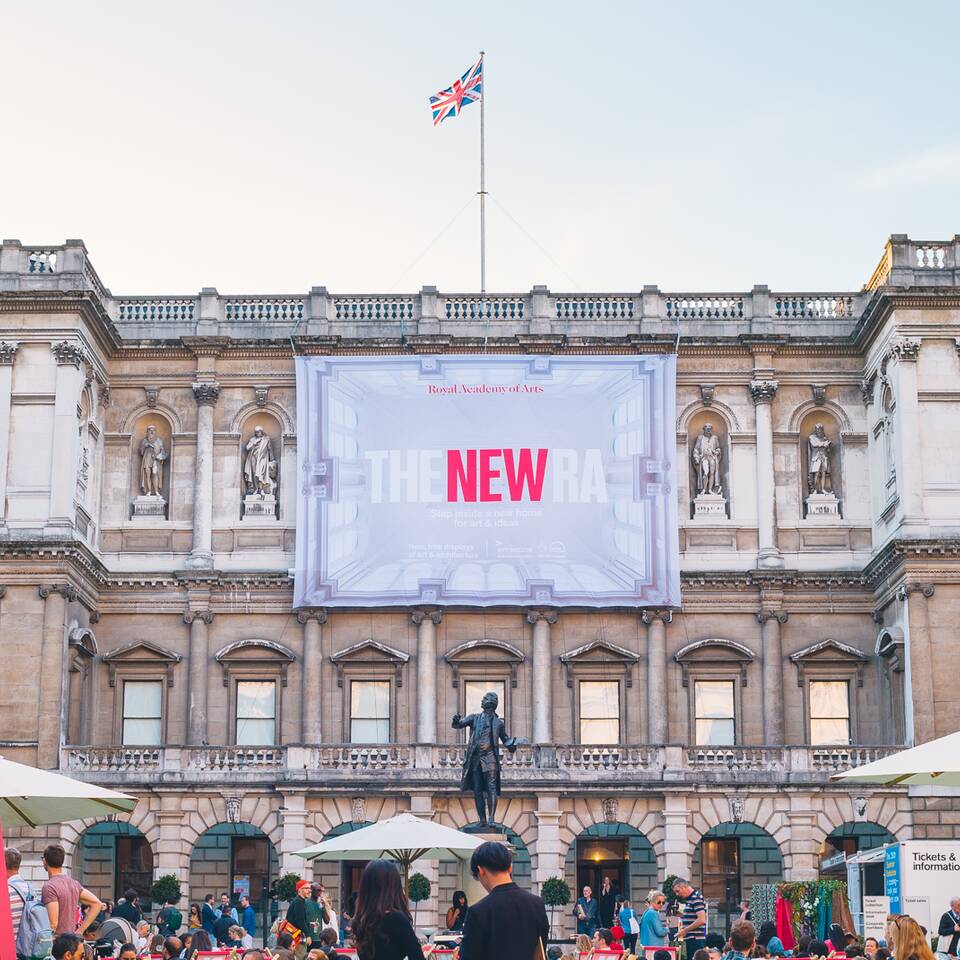 Royal Academy of Arts
Gallery
The Royal Academy of Arts is a world-renowned art institution based in Burlington House on Piccadilly, London. For over 250 years, the RA has existed to champion art and artists and offers a place where art is made, exhibited and debated. Enjoy their expanded campus with free displays, new spots to eat, drink and shop, and much more.
Read more
about Royal Academy of Arts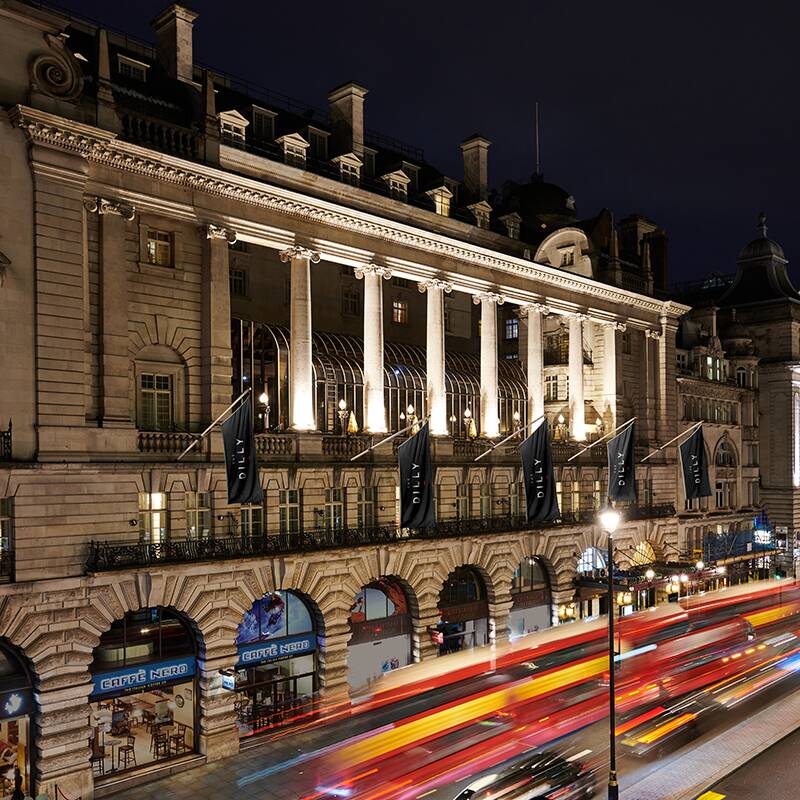 Set in the heart of London's West End, The Dilly complements the hotel's vibrant cultural and architectural surroundings. Seconds away from St James's, Piccadilly Circus, and Leicester Square, this luxury 5-star hotel boasts a stunning indoor swimming pool and spacious, elegant rooms for hotel guests. Plus, open to both guests and visitors, enjoy a superb meal in The Terrace restaurant overlooking Piccadilly, or a mouth-watering cocktail concoction in the Maskelyn & Cook bar.
Read more
about The Dilly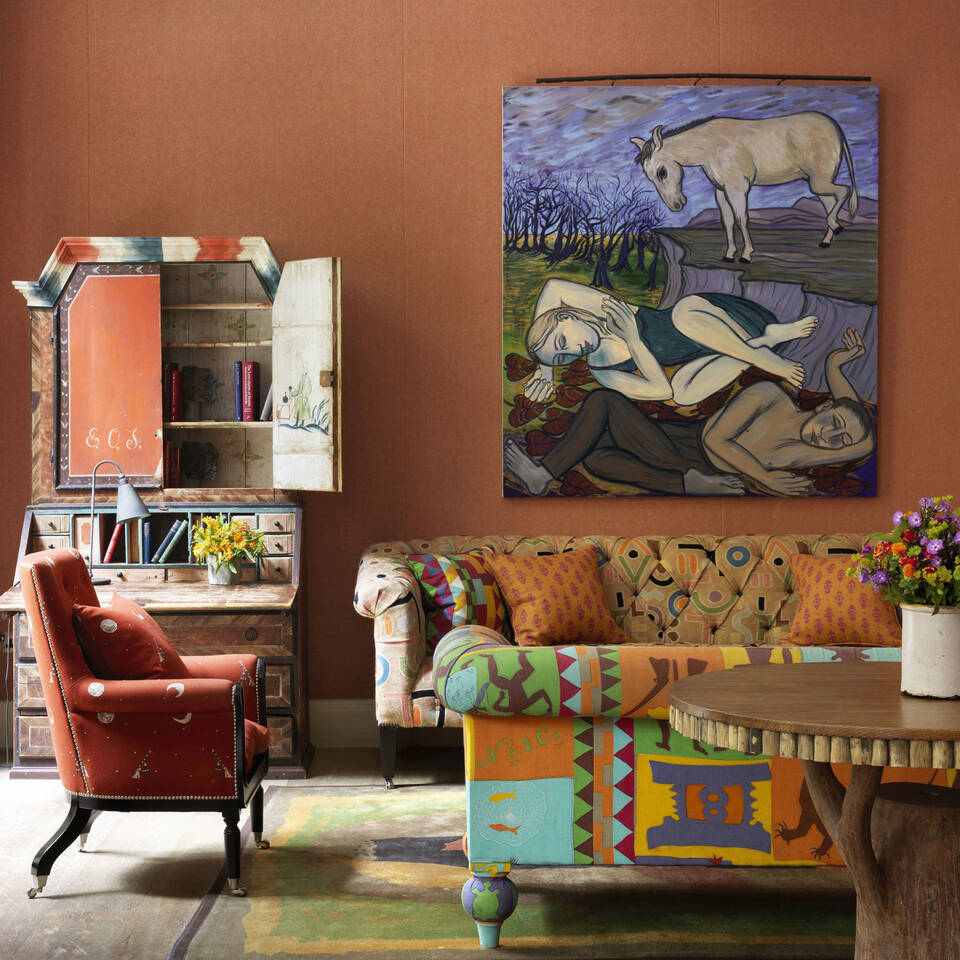 In the midst of Soho and moments from Mayfair, Ham Yard has an urban village feel. The hotel revolves around a leafy courtyard with a bronze sculpture centrepiece by Tony Cragg. Interiors are designed by Kit Kemp in her award-winning modern British style. Alongside the hotel's 91 individually designed bedrooms and suites are 24 apartments, 13 boutiques and a restaurant and bar, there is a drawing room and library, rooftop terrace, spa and gym, theatre, private event rooms and bowling alley.
Read more
about Ham Yard Hotel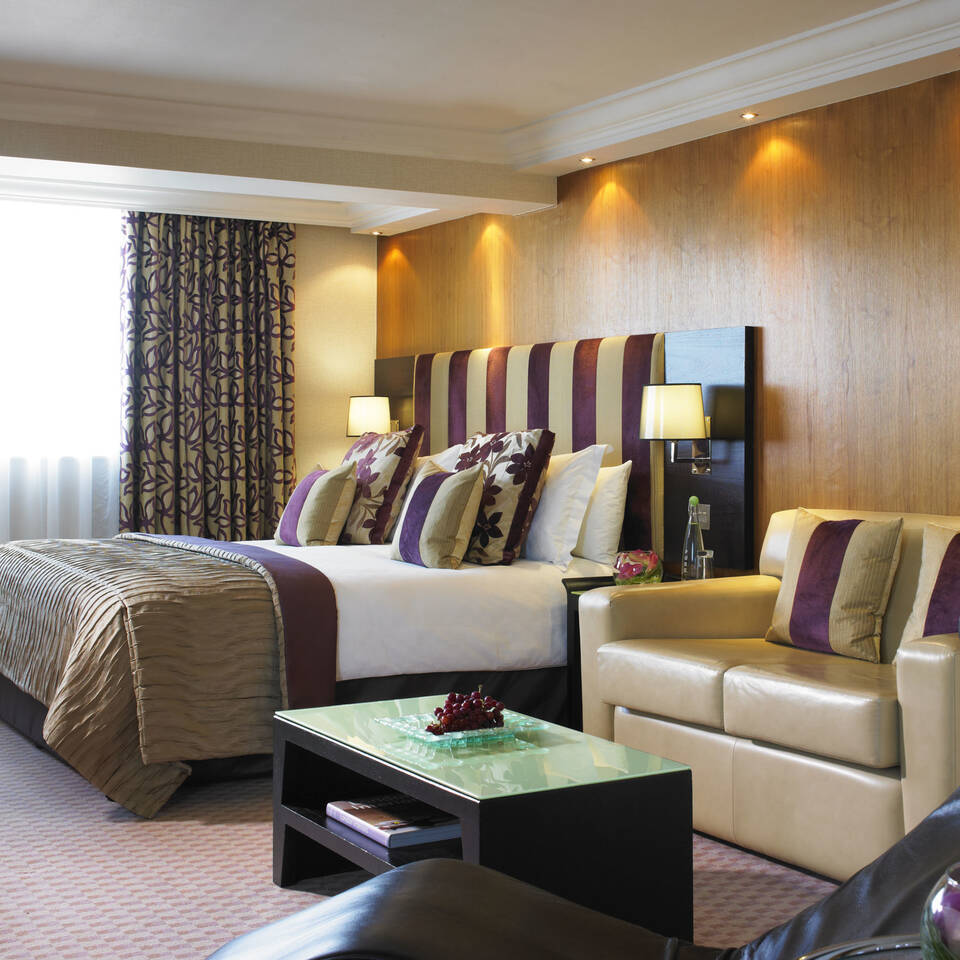 The Cavendish London
Hotel
Located in the very heart of St James's, on the corner of Duke Street and Jermyn Street, The Cavendish London has been a hotel on its present site since 1966, with a Cavendish Mayfair hotel having existed since the mid nineteenth century. Formerly owned by the remarkable Rosa Lewis – better known as the Duchess of Duke Street –the hotel is proud to continue providing contemporary and stylish 4 star accommodation in central London whilst sitting comfortably with its history amongst the elegant gentleman's outfitters of Jermyn Street.
Read more
about The Cavendish London